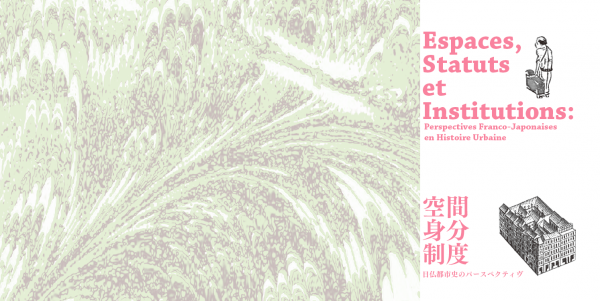 Actes de la deuxième partie du colloque franco-japonaise d'histoire urbaine « Espaces, Statuts et Institutions: Perspectives Franco-Japonaises en Histoire Urbaine»
Information
Event

日仏二国間交流セミナー「空間・身分・制度ー日仏都市史のパースペクティヴ」 (Japanese)
Actes de la deuxième partie du colloque franco-japonaise d'histoire urbaine, « Espaces, Statuts et Institutions: Perspectives Franco-Japonaises en Histoire Urbaine » (French)

Organization

the University of Tokyo Faculty of Engineering+École des hautes études en sciences sociales – Centre de recherches sur le Japon(EHESS・CRJ)

Basic Information

〔date〕22nd, 23rd November 2013
〔place〕Université Paris-Sorbonne
〔language〕1st Session: French, Japanese. 2nd Session: English
Program
22nd November
問題提起/ギヨーム・カレ(社会科学高等研究院・日本研究所)
第Ⅰ部 日本近世の社会と身分 ―Annales 日本近世史特集の論評
書評1/フランソワ=ジョセフ・ルッジウ(パリ第4 大学、ソルボンヌ)

書評2/エリー・アダッド(フランス国立科学研究センター)

リプライ1/塚田孝(大阪市立大学)

リプライ2/吉田ゆり子(東京外国語大学)

リプライ3/森下徹(山口大学)

リプライ4/吉田伸之(東京大学[名誉教授])
第Ⅱ部 都市史学会設立と新たな交流ステージ(前半)
問題提起/伊藤毅(東京大学)
セッション1 構造とインフラ
ダニ・サンドロン+グレゴリー・ショーメ(パリ第4 大学、ソルボンヌ)

Cellars of Paris, "under the cobbles, cellars!"

加藤耕一(東京大学)

City Walls of Paris and the History of Urban Construction: A Contrast between Middle Ages and Modern Ages

髙橋元貴(東京大学・博士課程)

The Dynamic Nature of Waterside Space in Edo: Silting and Dredging along "Furumachi no kashi"

ソフィー・ルキュラン(リール第3 大学・博士課程)

Street Lighting in the Kingdom of France (18th century)

赤松加寿江(東京大学)

Construction and Abandonment of Loggia in Florence
23rd November
第Ⅱ部 都市史学会設立と新たな交流ステージ(後半)
セッション2 表象と空間
フロレンス・ブリヨン(パリ第1 大学、パンテオン・ソルボンヌ)

Changing Paris street names during the second Empire, the Commission Merruau, 1862.

クラリス・コロム(グルノーブル大学)

The Origins of the City

小島見和(東京大学・博士課程)

Space Configuration around Étangs in Bas-Languedoc: An Analysis of a Rare Picture Map from the Sixteenth Century

アドリアン・ピトール(パリ第4 大学、ソルボンヌ)

Studying a multifunctional place : the example of the Palais of Paris
セッション3 権力と社会
高澤紀恵(国際基督教大学)

The Sacred Artisans and St. Paul Parish

ユーリ・カルボニエ(アルトワ大学)

The People of the building trades in Paris in the 18th century

メラニー・トラヴェルシエ(リール第3 大学)

"Move on, The show is about to begin". Policing the theatre and urban order : Traffic flows around theatres in Enlightenment Naples

小松愛子(東京大学)

Official Purveryors and Retailers who Handled the Demands of Daimyo Retainers in Edo

岩淵令治(学習院女子大学)

Relationship between the Samurai and Urban Societies in Castle Towns in Japan
Proceeding
Le Centre de Recherches sur le Japon (CRJ) of L'École des Hautes Études en Sciences Sociales (EHESS) and School of Engineering, The University of Tokyo (eds.), Espaces, Statuts et Institutions: Perspectives Franco- Japonaises en Histoire Urbaine, Proceedings of the Bilateral Seminars between France and Japan about Urban History [the Second Part], in Paris, 22–23 November 2013.
Chairman
伊藤毅、ギヨーム・カレ、吉田伸之、フランソワ=ジョセフ・ルッジウ、高澤紀恵
For complete program including the object, each presentation and, etc, please refer to the Japanese page.
Tuesday June 10th, 2014
last modified: Friday August 1st, 2014