Tadao ANDO LECTURE "Seeking Possibilities (History and Future)"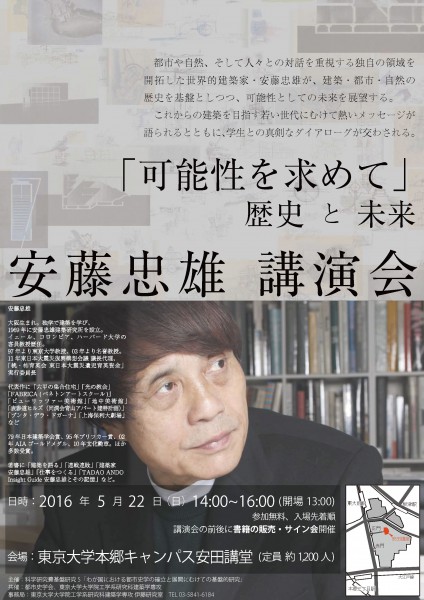 Title

(JP) 安藤忠雄 講演会「可能性を求めて―歴史と未来」
(EN) Tadao ANDO LECTURE "Seeking Possibilities (History and Future)"

Presented by:

Grant-in-Aid for Scientific Research Group (Category S) "Establishment and Development of Urban Historical Studies in Japan", 2013–2017, of Ministry of Education (MEXT), : representative Prof. Takeshi Ito (the University of Tokyo)

in association with:

Society of Urban and Territorial History (SUTH)

INFO

[Date] 22nd May 2016, 14:00-16:00
[Site]the Yasuda Hall, Hongo Campus, The University of Tokyo
7-3-1, Hongo, Bunkyo-ku, Tokyo 113-8654
  Campus Map
Admission free (first-come, first-served basis)
Book sale and signing event before and after lecture
Topic
What is "history"? What is "future"?
Architect Tadao Ando has pioneered a new field of architecture that emphasises the communication with the urban and natural environment as well as the people. The renowned architect gives a glimpse of the possible future while on the basis of architecture, urban, and natural history. Addition to the passionate messages to young and aspiring architects of the future, an intense discussion with the students awaits.
Lecturer
Tadao ANDO
Born in Osaka, self-taught in architecture
In 1969 Establishes Tadao Ando Architects and Associates
Works include "The Rokko Housings" "The Church Of Light" "FABRICA (Benetton Art School)" "Pulitzer Arts Foundation" "The Chichu Art Museum" "Omotesando Hills (Doujyunkai Aoyama Rebuilding Plan)" "Punta della Dogana" "The Shanghai Poly Grand Theater" and moreA
Awarded:
Architectural Institute of Japan Award in 1979
The Pritzker Architecture Prize in 1995
AIA Gold Medal in 2002
Person Of Cultural Merit in 2010
and numerous others
2011 The Reconstruction Design Council in response to the Great East Japan Earthquake, Vice Chairman, MOMO-KAKI Orphan Funds Executive Committee Chairman
Served as Guest Professor at Yale, Columbia, and Harvard University
Professor at Tokyo University in 1997, Professor emeritus in 2003
Writings include:
"建築を語る" "連戦連敗" "Architect Tadao Ando" "仕事をつくる"
"TADAO ANDO Insight Guide" etc.
Contact
TADAO ANDO LECTURE "Seeking Possibilities (History and Future)" Organizing Office
The University of Tokyo, Faculty of Engineering Bldg.1, Room 303, Prof.Takeshi Ito Laboratory,
7-3-1 Hongo, Bunkyo-ku, Tokyo
113-8656 Japan
TEL: 03-5841-6184
Mail: info@itolab.org
Monday April 18th, 2016
last modified: Friday March 30th, 2018